Allyson Ocean, M.D.
Medical Oncology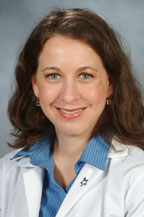 Dr. Ocean is a medical oncologist and attending physician in gastrointestinal oncology, Solid Tumor Division, at NewYork-Presbyterian Hospital/Weill Cornell Medical Center; Assistant Professor of Medicine at the Weill Medical College of Cornell University; and medical oncologist at The Jay Monahan Center for Gastrointestinal Health.

Board certified in internal medicine, hematology, and medical oncology, Dr. Ocean's primary interest is in the biology and treatment of gastrointestinal malignancies, such as colorectal, pancreatic, stomach, biliary, and liver cancers. She also specializes in head and neck cancers and neuroendocrine tumors. Dr. Ocean's clinical research focuses on the use of radiolabeled monoclonal antibodies, oncolytic viral therapies, and novel targeted agents. In her clinical practice, Dr. Ocean believes in the provision not only of state-of-the art treatment for her patients and their families, but also in a comprehensive, compassionate, multidisciplinary approach to their care and support.
Dr. Ocean graduated cum laude from Tufts University. She also graduated with honors from the Tufts University School of Medicine and completed residency in internal medicine at New York-Presbyterian/Weill Cornell Medical Center. Dr. Ocean was chief fellow during her fellowship in hematology and medical oncology at NewYork-Presbyterian Hospital/Weill Cornell Medical Center. Dr. Ocean is the author of numerous peer-reviewed articles and abstracts and is an active member of several professional societies, including the American Society of Clinical Oncology, American Society of Hematology, and American Association for Cancer Research.