Gregory F. Dakin, M.D.
Bariatric Surgery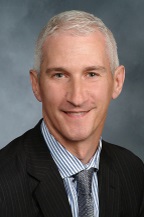 Dr. Dakin is an Associate Professor of Surgery and an Associate Attending Surgeon at NewYork-Presbyterian/Weill Cornell Medical Center. He completed both general surgery training and specialty training in minimally invasive surgery. Dr. Dakin is certified by the American Board of Surgery and specializes in laparoscopic abdominal surgery.

In addition to his busy clinical practice, Dr. Dakin plays a strong leadership role in physician training as Director of the Surgery Clerkship and Director of the Minimally Invasive Surgical Training Animate Laboratory. In addition to his clinical interest in obesity surgery, his practice includes the minimally invasive treatment of a wide variety of gastrointestinal disorders. Dr. Dakin was selected as "Best Doctor" by New York Magazine and was named one of New York Superdoctors, an honor accorded just 5% of all New York physicians.

For Dr. Dakin's publications, click here
Devoting considerable time to teaching, mentoring and the development of physicians in training, Dr. Dakin has been presented with number of teaching awards, including the Humanism and Excellence in Teaching Award and the Medical Student Teaching Award in Surgery. Most recently, he received the Excellence in Teaching Award from Weill Cornell Medical College.
His interest in clinical and basic science research focuses on various aspects of bariatric surgery, including its effects on bone metabolism; on reproductive function in obsese women; and on gene expression and metabolic profile of weight loss of patients following gastric bypass surgery. Dr. Dakin is a member of many numerous professional societies
A board-certified surgeon, Dr. Dakin received his undergraduate degree with honors from Colgate University and obtained his MD from the New York University School of Medicine. He completed his general surgery residency at the Mount Sinai School of Medicine, including a dedicated research fellowship in laparoscopy. He continued at Mount Sinai for a clinical fellowship in minimally invasive surgery.